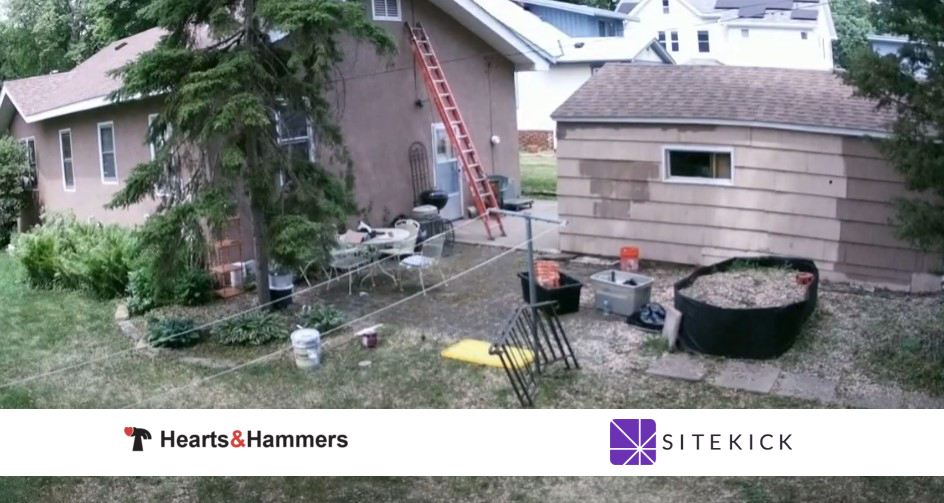 Community involvement is essential to our core beliefs, not because it can help build stronger relationships with customers, partners, and stakeholders. Still, it can also forge strong relationships with the local community. When businesses get involved in their communities, they can demonstrate their commitment to the people and places where they do business. Aside from creating a way to increase customer loyalty, employee satisfaction, and community support, it makes us feel good about what we do and who we do it for.  
In June 2023, we had such an opportunity through Hearts & Hammers. This non-profit organization provides exterior home improvement assistance to low-income homeowners in the Twin Cities and Dallas areas. SiteKick was partnered with Barbara, a homeowner who needed some help with a few tasks around her home.
SiteKick learned about Hearts and Hammers through their colleagues at Big-D Construction. After discovering how their mission to help "keep people in the homes they love" allowed senior citizens, disabled individuals, US military veterans, and their surviving spouses to continue living independently, getting involved was an easy decision for SiteKick. "Their mission speaks to their servant leadership and something we value very much at SiteKick," said CEO Tom Wolfe.
"It was an honor to partner with Hearts and Hammers, and the look on Barbara's face when she said it "looked gorgeous" was worth its weight in gold!" said Tom.
Hearts & Hammers was founded in 1986 by a group of volunteers concerned about the growing number of homeowners struggling to keep up with the maintenance of their homes. Hearts & Hammers has helped over 8,500 homeowners since its inception. The organization's work significantly impacts the lives of its clients. Homeowners who receive assistance from Hearts & Hammers can stay in their homes and improve their overall quality of life.
How You Can Help
There are many ways you can help Hearts & Hammers. You can volunteer your time, donate money, or sponsor a home. If you are a business owner, you can donate materials or services.
No matter how you choose to help, you will be making a difference in the lives of low-income homeowners. Hearts & Hammers is a valuable resource for homeowners in need, and your support is greatly appreciated.
Here are some specific ways you can help Hearts & Hammers:
Volunteer your time. Hearts & Hammers relies on a team of volunteers to complete all of its projects. Various volunteer opportunities are available, so you can find one that fits your interests and skills.
Donate money. Your donation will help Hearts & Hammers provide home improvement services to low-income homeowners. Donations can be made online or by mail.
Sponsor a home. Sponsoring a home means that you will help pay for the materials and labor costs associated with a home improvement project. Sponsoring is a great way to make a significant impact on the life of a low-income homeowner.
Donate materials or services. If you are a business owner, you can donate materials or services to Hearts & Hammers. Donating is a great way to give back to your community and help low-income homeowners.
Contact Information
Hearts & Hammers
2603 Fairiview ave N
St. Paul MN 55113
Phone: (651)636-0797
Website: https://heartsandhammers.org/